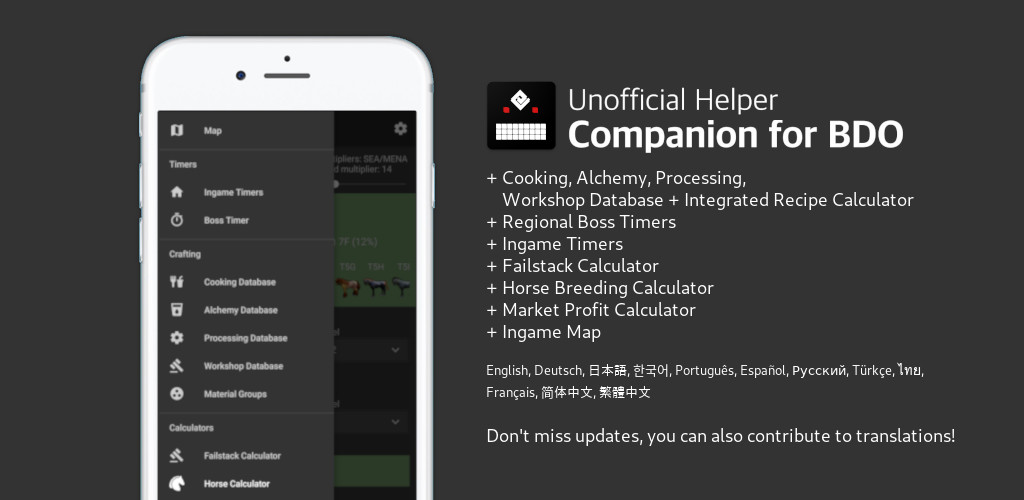 What is Companion for BDO?
An unofficial helper for the popular MMORPG Black Desert Online. The easiest and most convenient option to open recipes, calculators, boss timers and more.
Changelog
v.7.0.1
Added Mastery Calculator
Added Mastery Table
Updated world map
Updated grinding table
Updated databases
Updated boss timer notification scheduling mechanism
Fixed database icons
Fixed notification issues on certain Android devices
Changes for previous versions can be viewed inside the app.
Features
World Map
Ingame Timers
Boss Timers (NA/EU/SA/SEA/RU/KR/JP/TW/TH/MENA) + notifications
Cooking, Alchemy, Processing, Workshop Database + calculators + bookmarking
Horse Breeding Calculator
Horse Leveling Calculator
Market Calculator
Enhancement Calculator
Enhancement Chart
Grinding Chart
Horse Chart
Translation Contributions
You can contribute to translations via the official repository found at https://github.com/Gimu/companion-for-bdo-translation
Upcoming Features